Advanced Upset Prevention and Recovery Training
As of September 2020
Getting Advanced Upset Prevention and Recovery Training
Whether you are a professional pilot, or you fly for your hobby, it is always good to be in control of your aircraft in all conditions. This training will definitely take your skills to the next level.
Upset Prevention and Recovery training teaches you how to handle unusual flight situations, called upsets. You will learn how upsets can occur, how to prevent them and how to recover from them.
This course is suitable for everyone from novice pilot to airline pilot.
Preset Requirements
PPL/CPL
SEP(COUNTRY)
Medically examined
Course Requirements
5 hours of theory
3 hours of flying with instructor
Upset Prevention and Recovery Training Wings over Holland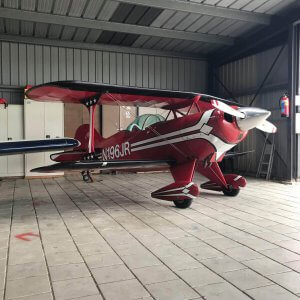 Wings over Holland has traditionally had extensive experience in the field of "advanced maneuvering. During this course, you will learn all about upsets. You will also learn what happens to you psychologically and physiologically and how you react to upsets. You will also find that intuitive human responses may not be the best responses in some situations.
The training is not only fun and exciting, but it is definitely good for your self-confidence.
Should UPRT have given you a taste for it, perhaps aerobatic training would be a nice challenge. The courses fit well together and will take you further in your fine flying career.
Total Flying
3 HOURS
With Instructor
3 HOURS
Theory
5 HOURS
*This is the minimum required approach
UPRT Theory
Obtaining Upset Prevention and Recovery Training also requires the necessary theoretical knowledge. You will cover the following topics at our flight school:
Upset Prevention
Upset Recovery
Unusual attitudes
Loss of Control
Upset Aerodynamics
Aircraft Limitations
Human Factors
You will take these courses at our flight school in Lelystad. UPRT theory takes 5 hours and will be covered in a half-day session.
Medical Examination
No pilot can fly and obtain his UPRT without being medically examined since good health is an important requirement in aviation.
At Wings over Holland, we recommend that you get your Class II Medical Examination at Aeglia. This medical center is at Lelystad Airport so is nearby for anyone who wants to get their pilot's license with us.
Download the Fact Sheet
Continuing Upset Prevention and Recovery Training.
The Upset Prevention and Recovery Training is a highly recommended workout. Now that you have this UPRT in your pocket, there are many follow-up courses you can take to expand your pilot's license.
After obtaining your pilot's license, begin training as a flight instructor.
With this expansion, you will learn how to fly during the evening and night.
Learn Aerobatics/Stunt Flying in one of our Aerobatic aircraft.
Learn to fly in a twin-engine plane with this extension to Wings over Holland.
Instrument Rating
Learn to fly an aircraft based on its instruments and not by sight.
Turn your flying hobby into a profession with CPL training.
The first step to UPRT?