Warbird T-6 Texan
Fly in a real warbird
The plane: the Texan
It is a unique experience in Europe: experience for yourself what it is like to fly in a North American T-6 Texan. This aircraft was mostly used during World War II and was also nicknamed "The Pilot Maker" at that time. From the 1930s through the 1970s, this warbird was used operationally. This beautiful airplane has a unique sound, 600hp radial engine and retractable landing gear. In 2016, Wings over Holland brought one of these aircraft to the Netherlands, and as of 2018, you get to experience it for yourself.
First Flight
The North American T-6 Texan landed at Lelystad Airport in September 2016 to become part of the Wings over Holland fleet. Led by Luuk, the Texan was flown from Sweden to the Netherlands. After the Texan landed, this warbird made a few more small flights, but shortly after it went into maintenance. After one year of maintenance, it was finally ready and the result is great. In his new color scheme (Royal Dutch Navy), he finally came out again on Friday, September 15, to start up his engine.
Soon after the Texan first restarted its engine, its first air show was already scheduled. On September 16, he made his first flight to the Heldair Show Maritime at Den Helder Airport and Maritime Air Station de Kooy. During the show, the T-6 Texan stood mostly static since no demo program has yet been created for this warbird; something that will be as of 2018. Aircraft photographer Ben Ullings was also along and was able to take very nice pictures of the first flight.
Don't have a pilot's license yet?
Check out our PPL Training options.
PPL Retrieval
Flying the T-6 Texan yourself
Would you like to fly the North American T-6 Texan yourself? This is possible from now on.
To fly with our Texan, there are, however, minimum requirements that you must meet, namely:
Minimum of 50 hours of tailwheel flying
At least 10 hours of those 50 hours must have been flown on the Texan with one of our instructors.
North American T-6 Texan
2 seats, VFR
Rental rate per hour
€699,-
Tuition rate per hour
€750,-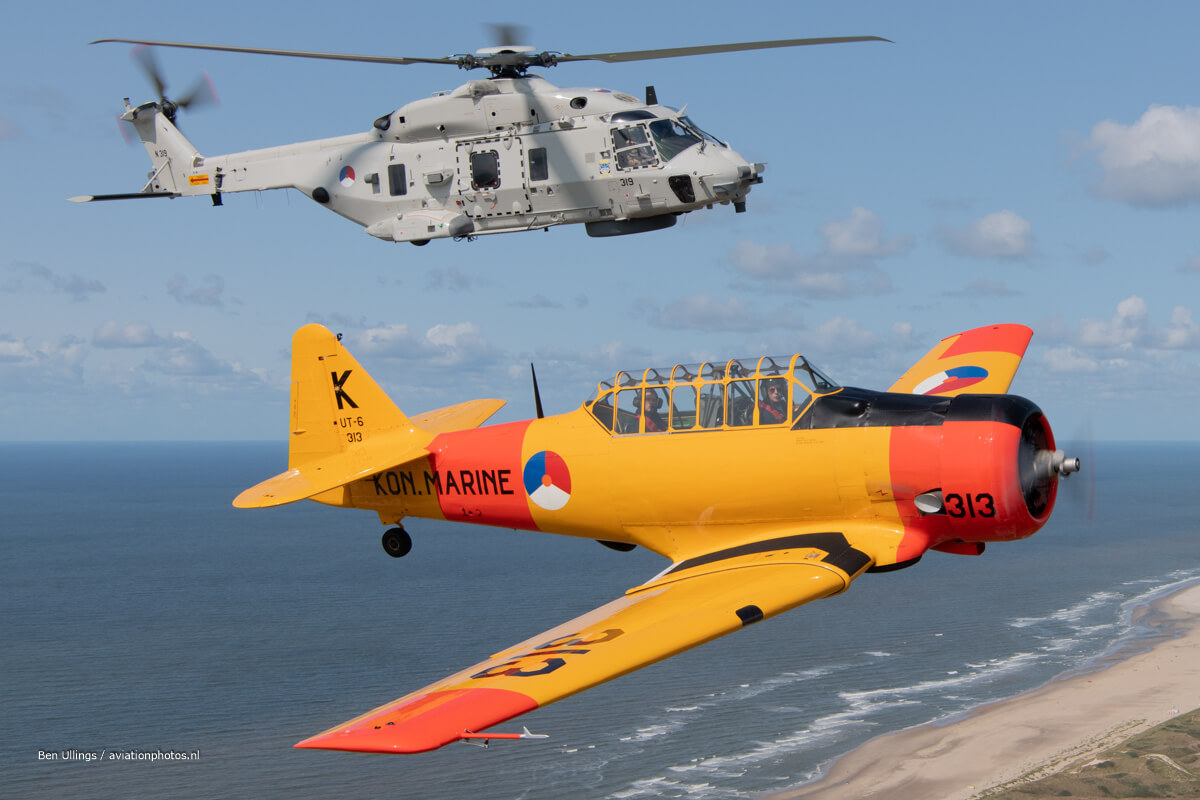 A trial lesson flying on the Texan?
Have you always wanted to experience flying yourself in a real warbird? Then book a trial flying lesson for €550 and experience!
Contact
Would you like to know more?
Then contact us.
Contact